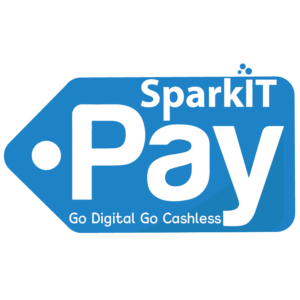 Welcome to SparkIT Pay, the website and mobile service of SparkIT Pay ("SparkIT Pay," "we," or "us"). This page explains the terms by which you may use our online and/or mobile services, website, and software provided on or in connection with the service (collectively the "Service"). By accessing or using the Service, you signify that you have read, understood, and agree to be bound by this Terms of Service Agreement ("Agreement") and to the collection and use of your information as set forth in the SparkIT Pay Privacy Policy, whether or not you are a registered user of our Service. This Agreement applies to all visitors, users, and others who access the Service ("Users").
We reserve the right to amend this Notice at any time and your use of this website following any amendments will represent your agreement to be bound by these terms and conditions as amended. We therefore recommend that each time you access our website you read these terms and conditions.
THESE TERMS, INCLUDING THIS INTRODUCTORY SECTION, CREATE A BINDING LEGAL CONTRACT BETWEEN YOU AND US. BY USING THE COMPANY SERVICES, YOU REPRESENT AND WARRANT THAT YOU HAVE READ, UNDERSTOOD, AND AGREE TO BE BOUND BY THESE TERMS. IF YOU DO NOT ACCEPT THESE TERMS, YOU MUST NOT USE AND ARE NOT AUTHORIZED TO USE ALL OR ANY PORTION OF THE COMPANY SERVICES.
REGISTRATION
You must register with us in order to open a SparkIT Pay Account and use the Services. We allow both individuals and Legal Entities to register with SparkIT Pay. Without any legal obligation to do so, we require certain information from you, to permit the use of the Services. You must provide accurate and complete information. In addition, you must keep the information that you provide up-to-date at all times.
For business Users, you are only permitted to apply and enrol, if you represent a legitimate business and have the authority to enter into this Agreement on behalf of the business. You represent and warrant that you are duly authorized by the business entity to accept this Agreement and have the authority to bind such business entity. You further represent and warrant that the business entity has all the requisite consents, approvals, certificates, agreements, registrations and licences in accordance with the laws, regulations, rules and guidelines in force in India from time to time..
ELIGIBILITY
If you are a child under 13 years of age, we may need your parent or guardians consent before allowing you to use the service. This Site is intended for use by you only if you are 18 years of age or older. The service is not available to any users previously removed from the service by SparkIT Pay. If you are using or opening an account to use the site on behalf of a company, entity or organization (each a "Subscribing Entity"), then you represent and warrant that you: (i) are an authorized representative of that subscribing entity with the authority to bind such entity to these Terms, and (ii) agree to be bound by these Terms on behalf of such subscribing entity. Additionally, users are prohibited from transferring their SparkIT Pay account to another party. If you do not qualify, you may not use the SparkIT Pay Service.
You further represent and confirm that you are not a person debarred from using the SparkIT Pay website and/or receiving the SparkIT Pay Services under the laws of India or other applicable laws. The Services and your SparkIT Pay Account can only be used in India. You acknowledge that the Services may be subject to restrictions imposed by the laws, rules, regulations, and guidelines in force in India.
USER NAME AND PASSWORD
You must choose a reasonably descriptive User name that clearly identifies you or your business. This name may appear on the Buyer Account statement. If a Transaction dispute results from your failure to use a reasonably descriptive user name, you agree to indemnify SparkIT Pay for any costs stemming from such dispute. As part of the SparkIT Pay registration process, you will create a password for your SparkIT Pay Account. You are responsible for maintaining the confidentiality of the password and the SparkIT Pay Account, and are fully responsible for all activities that occur under the SparkIT Pay Account, including, without limitation, all actions by sub-users registered under the SparkIT Pay Account. You agree to (a) immediately notify SparkIT Pay of any unauthorized use of your password or the SparkIT Pay Account or any other breach of security, and (b) ensure that you exit from your SparkIT Pay Account at the end of each session. SparkIT Pay cannot and will not be liable for any loss, damage or other liability arising from your failure to comply with this Clause or from any unauthorized access to or use of the SparkIT Pay Account. In the event of any dispute between two or more parties as to ownership of a particular SparkIT Pay Account, you agree that SparkIT Pay will be the sole arbiter of such dispute, at its sole discretion and that SparkIT Pay's decision (which may include termination or suspension of any account subject to dispute) will be final and binding on all parties.
VERIFICATION OF INFORMATION
We may share some or all of the information you provide with the Payment System Providers, Card Associations, Issuing Institutions, other financial institutions and governmental authorities. By accepting the terms of this Agreement, you authorize SparkIT Pay to request for supplemental documentation at any time (before or after your SparkIT Pay Account has been activated), in order to verify your identity, the accuracy of the information provided, legitimacy of your business, and/or your Buyers, including a Buyer report that contains your name and address, etc. If we cannot verify that this information is accurate and complete, we may deny your use of the Services, or close your SparkIT Pay Account at any time. We may, without being obliged under law to do so, also request for additional information to keep in conformity with the Know Your Customer ("KYC") requirements under the laws, regulations, rules, guidelines in force in India from time to time
OUR RELATIONSHIP WITH YOU
We provide online payment processing services through the SparkIT Pay payment gateway to facilitate the Seller in accepting Payment made by Buyers for services availed or for a specified purpose, using Valid Cards, net banking and any other acceptable modes of payment mechanism provided by us. These Transactions are between Sellers and Buyers and we are only acting as an intermediary. We are NOT (i) a payment System Provider as defined under the Payment and Settlement Systems Act, (ii) a banking company as defined under the Banking Regulation Act, 1949 or (iii) a non-banking financial company as defined by the Reserve Bank of India Act, 1938.
As an online facilitator/intermediary, we act as an integrator in a way:
Being the link between the Seller and the Payment System Providers for enabling the Buyers to make Payments, generating invoices on the SparkIT Pay website for the Transactions carried, using Payment System Provider's Services. The Payment System Provider will authenticate, authorize and process the Payment instructions given by the Buyers on the Website, in respect of the Transactions, upon fulfilling valid criteria as set forth by the Payment System Providers from time to time and accordingly transfer such authorized funds from the Buyer Account to our Nodal Account. ("Internet Payment Gateway")
In order to serve in this role, we have entered into agreements with various banks, nodal bank, financial institutions, Card Associations and other software providers who are in the business of providing information technology services, including but not limited to, internet based electronic commerce, internet payment gateway and electronic software distribution services (hereinafter referred to as the "Payment System Providers"), to enable use of internet payment gateways developed by them, to (i) route internet based Valid Card Transactions; (ii) offer various facilities through the internet, including net banking facilities; (iii) provide Authorization from Card Associations or other third party clearing houses; and (iv) provide settlement facilities in respect of payment instructions initiated by the Buyers (hereinafter referred to as the "Payment System Providers Services").
BUYERS RELATIONSHIP WITH US
The User (Buyers and Sellers) must register with SparkIT Pay. The Sellers must require their Buyers to register with SparkIT Pay and to accept the terms of this Agreement. All Transactions are governed by the terms of this Agreement. In addition, the Seller will ensure compliance by its Buyers with all applicable laws, rules and regulations in forces in India, regulations and guidelines issued by RBI and guidelines set by SparkIT Pay, Payment System Providers and Card Associations. We may conduct verification checks on Buyers to ensure account ownership and sufficient balance. We and/or the Payment System Provider may refuse to process payments from Buyers at our discretion.
The Buyer will provide all records, evidences and documentary evidences to appropriate authorities, regulators (as may be required), Payment System Providers and to SparkIT Pay upon request from such authorities, regulators, Payment System Provider and/or SparkIT Pay. The Buyer hereby grant its consent to SparkIT Pay for disclosure of its information, including without limitation to the sensitive personal data or information, to: (a) the head office of SparkIT Pay; or (b) with whom SparkIT Pay enters into (or may potentially enter into) any contractual or other arrangement in relation to any of its Services; or (c) to whom SparkIT Pay may outsource the performance of any of its operational functions; or (d) the agents, intermediaries to whom specific functions of SparkIT Pay have been delegated; or (e) the employees, advisors, auditors, legal counsel, etc. of SparkIT Pay, or to any other person or authority as may be required under the applicable law(s) or regulation(s); or (f) any person or entity that SparkIT Pay reasonably determines needs to receive such information; solely for the purpose of rendering the Services under this Agreement(including any ancillary or incidental activities thereof).
YOUR OBLIGATION TOWARDS PAYMENT SYSTEM PROVIDERS
As you will be using the Payment System Providers Services, you consent and agree to comply with the guidelines, instruction, request, etc made by the Payment System Providers from time to time. You further acknowledge that the Payment System Providers may also put limitations and restrictions on you, at its sole discretion. We will notify you of any such guidelines, instructions, requests, restrictions and/or limitations etc by e-mail.
In addition, these Payment System Providers have the right to reject payments, suspend or terminate services, make inspections or inquiries in relation to the transaction, etc for reasons more clearly expressed in this Agreement. If you fail to comply with your obligations towards the Payment System Providers, we may suspend or terminate your SparkIT Pay Account.
APPLICABLE CARD ASSOCIATION RULES
"Card Association Rules" refer to the guidelines and processes established and defined by the Card Associations. These Card Associations have infrastructure and processes to enable transaction Authorization. The Card Associations require you to comply with all applicable guidelines, rules, and regulations formulated by them. The Card Associations reserve the right to amend their guidelines, rules and regulations. We may be required to amend modify or change this Agreement in pursuant to amendments to the Card Association Rules and such amendments if any shall be deemed to be binding on the Users.
You agree to fully comply with all programs, guidelines, requirements that may be published and/or mandated by the Card Associations. Notwithstanding our assistance in understanding the Card Association Rules, you expressly acknowledge and agree that you are assuming the risk of compliance with all provisions of the Card Association Rules, regardless of whether you are aware of or have access to those provisions. MasterCard, Visa and American Express make excerpts of their respective rules available on their internet sites. In the event that your non-compliance of Card Association Rules, results in any fines, penalties or other amounts being levied on or demanded of us by a Card Association, then without prejudice to our other rights hereunder, you shall forthwith reimburse us in an amount equal to the fines, penalties or other amount so levied or demanded.
YOUR AUTHORIZATION
By accepting the terms of this Agreement, you authorize us to hold, receive, disburse and settle funds on your behalf. Your authorization permits us to generate an electronic funds transfer between the Payment System Providers and our Nodal Account to process each Payment Transaction that you authorize. Thereafter you authorise us to transfer the Payments received from your Buyers to the bank account designated by you for this purpose at the time of registration. Your authorization will remain in full force and effect until your SparkIT Pay Account is closed or terminated.
TRANSACTION CONFIRMATION AND ACCOUNT HISTORY
When you receive a Payment with respect to a Transaction, we will update your SparkIT Pay Account activity and provide you with a Transaction confirmation stating 'Paid'. This confirmation will serve as your receipt. The Users acknowledges that SparkIT Pay will only release the Transaction Confirmation upon receiving confirmation with respect to Authentication and Authorization of such Transaction (Buyer's Account being debited or charged) from the Payment System Provider ("Transaction Confirmation").We will not be responsible for any Transactions that have not been confirmed to us to the Seller. Summary of your SparkIT Pay Account activity are available on your SparkIT Pay Account. Except as required by law, you are solely responsible for (a) compiling and retaining permanent records of all Transactions and other data and (b) reconciling all transaction information that is associated with your SparkIT Pay Account. If you believe that there is an error or unauthorized Transaction activity that is associated with your SparkIT Pay Account, you agree to contact us at immediately not later than 5 (five) days.
COMMUNICATION POLICY
By accepting the terms and conditions the User accepts that SparkIT Pay may send the alerts to the mobile phone number provided by the User while registering for the service or to any such number replaced and informed by the User. The User acknowledges that the alerts will be received only if the mobile phone is in 'On' mode to receive the SMS. If the mobile phone is in 'Off' mode then the User may not get / get after delay any alerts sent during such period.
SparkIT Pay will make best efforts to provide the service and it shall be deemed that the User shall have received the information sent from SparkIT Pay as an alert on the mobile phone number provided during the course of registration and SparkIT Pay shall not be under any obligation to confirm the authenticity of the person(s) receiving the alert. The User cannot hold SparkIT Pay liable for non-availability of the service in any manner whatsoever.
The User acknowledges that the SMS service provided by SparkIT Pay is an additional facility provided for the User's convenience and that it may be susceptible to error, omission and/ or inaccuracy. In the event the User observes any error in the information provided in the alert, SparkIT Pay shall be immediately informed about the same by the User and SparkIT Pay will make best possible efforts to rectify the error as early as possible. The User shall not hold SparkIT Pay liable for any loss, damages, claim, expense including legal cost that may be incurred/ suffered by the User on account of the SMS facility.
The User acknowledges that the clarity, readability, accuracy, and promptness of providing the service depend on many factors including the infrastructure, connectivity of the service provider. SparkIT Pay shall not be responsible for any non-delivery, delayed delivery or distortion of the alert in any way whatsoever.
The User agrees to indemnify and hold harmless SparkIT Pay and the SMS service provider including its officials from any damages, claims, demands, proceedings, loss, cost, charges and expenses whatsoever including legal charges and attorney fees which SparkIT Pay and the SMS service provider may at any time incur, sustain, suffer or be put to as a consequence of or arising out of (i) misuse, improper or fraudulent information provided by the User, and/or (ii) the User providing incorrect number or providing a number that belongs to that of an unrelated third party,
User also agrees to receive information regarding what SparkIT Pay perceives to be of their interest based on usage history via SMS, email & phone call. This includes offers, discounts and general information.
By accepting the terms and conditions the User acknowledges and agrees that SparkIT Pay may call the mobile phone number provided by the User while registering for the service or to any such number replaced and informed by the User, for the purpose of collecting feedback from the User regarding the services.
Grievances and claims related to services should be reported to SparkIT Pay Care Team in the manner provided on the website.
DISPUTE RESOLUTION MECHANISM
The Users agree that, if any dispute(s) or difference(s) shall arise between the Buyer and Seller in connection with or arising out of this Agreement, the User alleging the dispute(s) or difference(s) shall contact SparkIT Pay support at helpdesk@sparkitpay.com.
On receipt of a communication with respect to a dispute or difference, SparkIT Pay dispute resolution team will provide 5 Business Days to the Buyer and Seller to resolve the dispute amicably and oversee the same.
In the event that the dispute is not resolved within the period stipulated above, SparkIT Pay will act as a neutral party and resolve the dispute in accordance with SparkIT Pay internal guidelines and processes created in this respect.
SparkIT Pay and the User shall adhere to the principle of natural justice while resolving the dispute.
The dispute resolution team will endeavour to ensure that the dispute is resolve within 7 Business Days from lapse of period stipulated for amicable resolution of the dispute.
The User hereby grant SparkIT Pay the authority to assist them in resolving the dispute and authorize SparkIT Pay to take adequate and appropriate actions in this respect.
All actions to resolve the dispute taken by SparkIT Pay are authorized by the Users and SparkIT Pay shall not be liable for the same under any circumstances whatsoever.
OUR FEES
In consideration for the Services provided by us, the Seller agrees to pay, the applicable fees as mentioned on the Website ("Fees"). These Fees will be deducted by the nodal bank from the amount payable to the Seller in respect of the Payments made by its Buyers. The Fees payable to SparkIT Pay will be net of applicable tax (including service charges, cesses, etc.).
Sellers may increase their prices to include the cost of these Fees or may choose to disclose these increases to their Buyers as a "Service Fee". However, Sellers may only do this in compliance with Card Association Rules. Subject to the terms of this Agreement, we reserve the right to change our Fees. We will intimate you of any such change within reasonable time. By continuing to use the Service, you consent to the change in Fees. To withdraw your consent, you will need to close your account.
PAYMENT TO SELLER
On receipt of the Payments in the Nodal Account, we will endeavour to instruct the nodal bank to transmit the Payments payable to the Seller, after deducting our Fees, from the Nodal Account to the Seller's designated bank account.
In the event that the seller is categorized as "Category A", we shall instruct the nodal bank to transmit the payments payable, within 3 (three) Business Days (or such other period as may be prescribed by the RBI from time to time) from Completion of Transaction.
In the event that the seller is categorized as "Category B", we shall instruct the nodal bank to transmit the payments payable within 3 (three) Business Days (or such other period as may be prescribed by the RBI from time to time) from submission of "proof of delivery" (in the manner prescribed by us) by the seller.
In the event that the seller is categorized as "Category C", we shall instruct the nodal bank to transmit the payments payable within 3 (three) Business Days (or such other period as may be prescribed by the RBI from time to time) from confirmation of product/service delivery (in the manner prescribed by us) by the buyer.
Subject to any other Clause of this Agreement and Completion of Transaction, the Seller acknowledges that we will settle the Payments only upon actual receipt of Payments in the Nodal Account and upon reconciliation of the Payments by the Acquiring Banks, SparkIT Pay and the nodal bank.
The Seller will bear and be responsible and liable for the payment of all relevant taxes in relation to the Payments made under this Agreement.
AUTHORIZATION AND AUTHENTICATION
You understand that we, the Payment System Providers and/or Card Association may reject Authentication and/or Authorization of Transaction placed by the Buyer for any reason including but not limited to risk management, suspicion of fraudulent, illegal or doubtful Transactions, selling of banned items, use of compromised cards or bank account numbers, use of banned/blacklisted cards or bank account numbers, use of suspicious API or in accordance with the RBI, Acquiring Banks, Issuing Institution and/or Card Association rules, guidelines, regulations, etc and any other laws, rules, regulations, guidelines in force in India. You further acknowledge that as a security measure we and/or the Payment System Providers may at our sole discretion block any card number, account numbers, group of cards or Transactions from any specific blocked or blacklisted cards /, accounts, specific, group of IP addresses, devices, geographic locations and / or any such risk mitigation measures it wishes to undertake. As a risk management tool, we and/or the Payment System Providers reserve the right to limit or restrict Transaction size, amount and/or monthly volume at any time. If the Seller would like to increase the limits or lift the restrictions, the Seller may contact SparkIT Pay at helpdesk@sparkitpay.com. We will consider a variety of factors in making a decision and such determination will be at our sole discretion.
REJECTION OF PAYMENT
Notwithstanding anything contained anywhere in this Agreement, the Seller fully confirms and agrees that we and the Payment System Providers reserve the right to reject transfer of Payments to the Seller for any reason including but not limited to unlawful, unenforceable, doubtful or erroneous Transactions, chargebacks, refunds, fraud, suspicious Account activities, Transaction related issues, service related issues, Card authorization issues, if the Transaction was not made in accordance with the terms, conditions, covenants and warranties under this Agreement or the Transaction was not carried out in accordance with SparkIT Pay and/or the Payment System Providers requirements (as intimated to the Seller under this Agreement or otherwise at any time). In event of rejection of payment as specified herein, the Seller will be responsible to collect the Payment from the Buyer directly and in any case neither us nor the Payment System Providers will have any responsibility or liability in this regard.
CHARGEBACK OR REFUND
You hereby agree that all refunds and Chargebacks will be the sole responsibility of the Seller and we and/or the Payment System Providers will not be liable for any claims or disputes which may arise in connection with such refunds or Chargebacks. The Sellers agree to indemnify SparkIT Pay in respect of any claims, disputes, penalties, costs and expenses arising directly or indirectly in relation to refunds or Chargebacks. If we and/or the Payment System Providers determine that the Seller is incurring an excessive amount of Chargebacks, we may establish controls or conditions governing the Transactions contemplated under this Agreement, including without limitation, by (a) establishing new processing fees, (b) by requesting a security deposit in an amount reasonably determined by us to cover anticipated Chargebacks, (c) delaying payouts, and (d) terminating or suspending the Services.
SUSPENSION OR DELAY OF PAYMENTS
All Payments due to the Seller under this Agreement may be suspended or delayed till such time as we, the Acquiring Banks and/or nodal bank deems fit, if:
• the Seller or its Buyers commits any fraud or violates any law or legal requirement;
• we and/or the Payment System Providers have reasons to believe that a fraud has been committed against the Buyers, us, Payment System Providers or any third party by the Seller, its Buyers or any other third party; or has reason to believe that the Seller or its Buyers have in connivance with any other person done any fraud or assisted in the same; or any transaction has been fraudulently initiated. We, the Payment System Providers and/or nodal bank will be entitled to suspend/delay all Payments to be made to the Seller until completion of enquiry/investigation into the matter;
• the Seller has pending Chargebacks or high Chargeback and/or refund Risk;
• Or For any other reasonable reasons.
TRANSACTION DISPUTE
Transactions may be disputed at anytime up to 180 (one hundred eighty) days, from the date of Transaction by the Buyers as per the Card Association Rules. Disputes resolved in favour of the Buyers may result in reversal of Payments to the BUYERS.
In the event of rejection/suspension of Payments to the Seller, Chargebacks, refunds and/or any other dispute relating to the Transactions contemplated under this Agreement ("Disputed Transaction"), on any grounds whatsoever, we will forthwith notify the Seller of the same. On such notification the Seller will conduct an internal review of such matter and will, within 5 (five) days from receipt of notification, revert to us in writing either:
• requesting us to refund ("Refund Request") the Payment received by the Seller in respect of such Transaction ("Refund Monies"); or
• Providing us with a statement explaining how the Disputed Transaction is not warranted together with all documentary evidence in support of contesting such Disputed Transaction.
In the event that the Seller provides a Refund Request to us or fails to contest such Disputed Transaction within the aforesaid 5 (five) day period or contests Disputed Transaction without providing supporting documentation to ours, Payment System Providers, Card Association and/or Issuing Institution's satisfaction, we will be entitled to recover the Refund Monies from credits subsequently made to the Nodal Account with respect to Payments made by the Seller's Buyers. In the event that we are unable to recover the Refund Monies as aforesaid, due to the amounts credited to the Nodal Account being lower than the Refund Monies, we will deduct the remaining Refund Monies from the Security Deposit and/or set-off the remaining Refund Monies against the future payables to the Seller and refund the same to the respective Buyers. The Seller will be liable to make payment of the Refund Monies or part thereof which has not been recovered by us forthwith. It is hereby agreed and acknowledged by the Parties that the Fees charged by us in respect of the Disputed Transaction will not be refunded or repaid by us to the Seller, Buyer or any other person.
RESPONSIBILITY OF THE SELLER
In addition to the other provisions of this Agreement, the Seller hereby declares, assures, undertakes and covenants as under:
The Seller will prior to accepting any instructions from the Buyer ensure that appropriate agreements have been executed with the Buyer in accordance with the requirements of applicable law, rules and regulations, these agreements will be directly between the Buyer and the Seller. In addition, appropriate cancellation policy, liberal refund policy, privacy policies, disclosures/disclaimers and terms of use pertaining to goods and/or services are displayed conspicuously on the Seller's Web-store;
The Seller will comply with all applicable laws and regulations in offering the services to the Buyers. The Seller will ensure that all requisite approvals consents, licenses and registrations are kept in full force and effect to enable the Seller to offer the services to collect Payments online. The Seller will also comply with RBI, Card Associations and Payment System Providers rules and guidelines;
The Seller will not offer any good and/or service, which is illegal or offensive or banned/prohibited by law and or not in compliance with applicable laws, and regulations whether central, state, local or international of all jurisdiction from where the Buyers of Seller avails the services;
In the event any Buyer complaints or is dissatisfied with any service offered, the Seller will take such measures as may be required to resolve the same at its sole cost and expenses;
The Seller will ensure that the best service standards in the industry are adopted in accordance with the highest standards;
The Seller agrees to put up such notices, disclaimers or warranties on its Web-store as may be requested by us and/or the Payment System Providers and the Merchant shall comply with such request forthwith.
The Seller will ensure to keep confidential, all information submitted by the Buyers on the Seller's Web-store. The Seller will ensure that there are proper encryption and robust security measures to prevent any hacking into the information of the Buyers and other data. The Buyer will not be required or asked to disclose any confidential or personal data, which may be prejudicial to interests of the Buyer. The Seller will use the Buyer data only for the purpose of completing the Transaction for which it was furnished, and will not sell or otherwise furnish such information to any third party. The Seller will be liable to comply with existing Data Privacy regulations from time to time;
The Seller will be solely responsible for the accuracy of all information and/or validity of the prices and any other charges and/or other information, which are mentioned on its Web-store;
The Seller agrees that we reserve the right to suspend the Services provided herein, forthwith without assigning any reason whatsoever, in event the Seller fails to observe the terms and conditions herein;
The Seller will not input any data on behalf of the Buyers on the Seller's Web-store failing which it will be considered as breach of trust of SparkIT Pay and/or of the Payment System Providers; and
The Seller will not require the Buyer to provide the Seller with any details of the accounts held by them.
The Seller shall in writing inform us of all changes in its constitution, directors/partners/trustees, or change in the current addresses of each office, within seven (7) Business Days of such change having taken place listing out the names and details of the personnel in charge of the management and affairs of the Seller's business.
SECURITY DEPOSIT AS RESERVE
At any time and from time to time, we may request the Seller to provide us with a interest free refundable security deposit to be held as reserve ("Reserve"), to secure the performance of your payment obligations under this Agreement. The Seller agrees to provide such security deposit as may be request by us from time to time. We may temporarily suspend or delay Payments to you or request for a security deposit for any reason, including high chargeback risk, refunds, and non-payment of maintenance Fees or any other indications of performance problems related to your use of the Service. The security deposit will be in an amount as reasonably determined by us to cover anticipated chargebacks, returns, unshipped Products and/or unfulfilled services or credit risk based on your processing history and Risk Assessment or such amount designated by the Payment System Providers. The security deposit may be raised, reduced or removed at any time by us at our sole discretion, based on your payment history, a credit review, the amount of any arbitration award or court judgment against you in our favour, or otherwise as we or the Payment System Providers may determine or require. If the Seller fails to provide us with a security deposit within five (5) days of receipt of notice for the same, we will reserve the right to suspend and/or terminate the Seller's SparkIT Pay Account without further notice.
We may use this Reserve to deduct losses, costs, damages or chargeback, returns, penalties, etc suffered or incurred by the Buyers, us, and/or the Payment System Providers, inter alia, due to fraud, misconduct, negligence or deficiency of service or for any other reason. This will also include deduction of any kind of outstanding Fees payable by the Seller to us.
OUR SET-OFF RIGHTS
To the extent permitted by law, we may set-off any obligation that the Seller owes to the Buyers, us and/or Payment System Providers under this Agreement (including without limitation any chargebacks, refunds, penalties and/or our Fees) against the balance or future Payments payable to the Seller. To the extent permitted by law, we may set-off any obligation that the Seller owes to the Buyers, us and/or Payment System Providers under this Agreement (including without limitation any chargebacks, refunds, penalties and/or our Fees) against the balance or future Payments payable to the Seller. The Seller acknowledges that we and/or the Payment System Providers reserve the right to reverse the credit given to the Seller for the Transaction or set-off the amount due by the Seller against Payments payable to the Seller, in case a Payment is rejected or is to be rejected including but not limited to the grounds specified in this Agreement and in doing so we may also deduct the relevant amount from subsequent future Transactions and/or from the Reserve (if any). The Seller agree to pay all costs and expenses, including without limitation attorneys' fees and other legal expenses, incurred by or on behalf of us in connection with any amount payable by the Seller and the collection of all SparkIT Pay Account deficit balances unpaid by the Seller. In case the Reserve and amounts payable to the Seller is not sufficient to cover the Seller's dues, then the Seller will pay us and/or the Payment System Providers the full amount due immediately upon demand. We will be entitled to charge daily interest on such overdue amount from the date of request until the date of payment in full, at the rate of 1.5% per month. Provided that our right to set-off or to appropriate the Reserve of the Seller in the above manner will be in addition to and reserving fully our right to recover all such losses, costs and damages from Seller by any other means, which may be available to us under the law.
MERCHANT RISK ASSESSMENT
We may, from time to time during the term, make or carry out risk assessments on the Seller and/or the Transactions carried out on the Seller's Web-store (each a "Risk Assessment") which shall inter alia be for the following purposes:
• verify that the Seller is properly constituted and operates a bona fide business;
• verify that the Seller has sufficient safeguards in place to protect Buyer's Data;
• quantify and investigate the levels of fraud or Seller's default relating to the Transactions; and/or
• provide any other comfort that we (acting reasonably) may require in the context of its exposure under this Agreement and the agreements with the Payment System Providers or Card Associations, and the Seller shall provide all reasonable assistance and information to us with respect to such Risk Assessments.
We may periodically obtain additional reports to determine whether you continue to meet the requirements of this Agreement. You agree that we are permitted to collect and share information about you and your application (including whether you are approved or declined), and your SparkIT Pay Account with the Payment System Providers, Card Associations, Issuing Institutions, other banks, financial institutions and governmental authorities. This includes sharing information (a) about your Transactions for regulatory or compliance purposes (including compliance with KYC), (b) for use in connection with the management and maintenance of the Service, (c) to create and update their customer records about you and to assist them in better serving you, and (d) to conduct SparkIT Pay risk management process.
In addition, you agree that we may ask for additional information at any time, and may decline or reverse Transactions at any time based on the risk they pose to the Seller, the Buyer and/or to us.
The User shall notify SparkIT Pay forthwith of any issue of which it is aware that is reasonably likely to have an adverse impact on the Seller's trading position, credit risk or our exposure under this Agreement.
If, at any time after we have made or carried out a Risk Assessment or it has been notified of an issue, we determine (acting reasonably) that the Seller or circumstances relating to the Seller represent a material credit risk or potentially increase our exposure under this Agreement, we may:
• terminate this Agreement with immediate effect; and
• defer the payments due to the Seller for such period as we deem appropriate (acting reasonably) to address the credit risk or exposure and, where necessary, such amount (in whole or part) may be applied towards any amount owed by the Seller to us under this Agreement.
If, at any time, we discover that a fraud has been committed you; or you have in connivance with any other person done any fraud or assisted in the same; or any transaction has been fraudulently initiated, we may report the same to any governmental and/or law enforcement authorities.
INSPECTION
The Seller shall maintain records of such periodical checks in such manner as may be specified by us and/or the Payment System Providers. We and/or the Payment System Providers shall be entitled to check and audit records and statements of Seller to ensure compliance with the Seller's obligations under this Agreement at such intervals or times as we and/or the Payment System Providers may deem fit. We and/or the Payment System Provider may also inspect your business location. If you refuse such inspection, your SparkIT Pay Account may be terminated. We reserve the right to suspend or terminate the SparkIT Pay Account of any User who provides inaccurate, untrue, or incomplete information, or fails to comply with the SparkIT Pay Account registration requirements. If the Seller refuse such inspection or provides inaccurate, untrue, or incomplete information, or fails to comply with the terms and conditions of this Agreement, we reserve the right to suspend or terminate the SparkIT Pay Services forthwith.
TAXES
The Users hereby agree that they will bear and be responsible for the payment of all relevant taxes (including any applicable withholding taxes), surcharge etc. arising from their use of the Services and in relations to the Payments made under this Agreement. The Users are responsible for determining any and all taxes assessed, incurred, or required to be collected, paid or withheld for any reason. You are solely responsible for collecting, withholding, reporting and remitting correct taxes to the appropriate tax authority. We are not obligated to, nor will we determine whether taxes apply, or calculate, collect, report or remit any taxes to any tax authority arising from any transaction. In addition, you are responsible for compliance with any applicable central, state or local tax laws.
CUSTOMER SUPPORT
The Sellers are solely responsible for all customer support issues relating to the services provided, including pricing, fulfilment of services, cancellation by them or the Buyer, returns, refunds and adjustments, rebates, functionality and warranty, technical support and feedback concerning experiences with your personnel, policies or processes. In performing customer support, Sellers will always present themselves as a separate entity from SparkIT Pay. You will provide customer support to Buyers at all times. Such support will include appropriate notice to Buyers of means of contacting the Seller in the event the Buyer has questions/queries regarding the nature or quality of the goods or services and the procedures for resolving disputes.
As between User and us, we are solely responsible for customer support issues relating to your SparkIT Pay Account
DORMANT ACCOUNTS
If there is no activity in your SparkIT Pay Account (including access or payment transactions) for a period of six (6) months, we may close your SparkIT Pay Account
PRIVACY
Your privacy is very important to us. Upon acceptance of this Agreement you confirm that you have read, understood and accepted our Privacy Policy. By using our Service, you may receive information about Buyers or other users. You must keep such information confidential and only use it in connection with the Services. You may not disclose or distribute any such information to a third party or use the information for marketing purposes unless you receive the express consent of the User.
SECURITY
SparkIT Pay is a Payment Card Industry (PCI) Data Security Standard (DSS) certified payment gateway. We have implemented technical and organizational measures designed to secure your personal information from accidental loss and from unauthorized access, use, alteration or disclosure. However, we cannot guarantee that unauthorized third parties will never be able to defeat those measures or use your personal information for improper purposes. You acknowledge that you provide your personal information at your own risk. If you discover a security-related issue, you agree to inform us of the issue immediately by contacting us at helpdesk@sparkitpay.com. You also agree not to disclose the issue until we have addressed it.
SUSPENSION OR TERMINATION BY US
We may terminate this Agreement and close your SparkIT Pay Account without assigning any reason at any time without giving any prior notice to you. We may also suspend the Service and access to your SparkIT Pay Account (including the funds in your SparkIT Pay Account) if you (a) have violated the terms of the SparkIT Pay Agreement and policies, (b) pose an unacceptable credit or fraud risk to us, or (c) provide any false, incomplete, inaccurate, or misleading information or otherwise engage in fraudulent or illegal conduct.
If your SparkIT Pay Account is terminated for any reason or no reason, you agree: (a) to continue to be bound by this Agreement, (b) to immediately stop using the Services, (c) that the license provided under this Agreement will end, (d) that we reserve the right (but have no obligation) to delete all of your information and the SparkIT Pay Account data stored on our servers, and (e) that we will not be liable to you or any third party for termination of access to the Services, deletion of your information or the SparkIT Pay Account data, or export of your information or the SparkIT Pay Account data.
YOUR RIGHT TO TERMINATE
You may terminate this Agreement by closing your SparkIT Pay Account at any time. Upon closure of a SparkIT Pay Account, any pending transactions will be cancelled. This Agreement will be terminated immediately on the occurrence of a force majeure event.
EFFECT OF TERMINATION
We will not be liable to you for compensation, reimbursement, or damages in connection with your use of the Services, or any termination or suspension of the Services. Any termination of this Agreement does not relieve you of any obligations to pay any fees or costs accrued prior to the termination and any other amounts owed by you to us, the Buyers and/or the Payment System Providers as provided in this Agreement. The Seller fully undertakes and hereby agrees and confirms that in the event of termination by either party, we will be entitled to withhold for a period of 210 (two ten) days from the date of the notice of termination, the security deposit (if any) and up to 100% of amounts payable to the Seller in respect of Payments for appropriation towards amounts to be recovered from the Seller and in case of chargebacks after termination.
YOUR LICENSE
We grant you a personal, limited, non-exclusive, revocable, non-transferable license, without the right to sublicense or assign, to electronically access and use the Services solely to:
• open or view a Web-store,
• receive and accept or make Payments, and
• manage the funds you so receive or paid;
You will be entitled to download updates to the Services, subject to any additional terms made known to you at the time, when we makes these updates available. We will use reasonable endeavours to give the Seller prior notice of any down-time in relation to the Services as a result of updates or preventative or reactive maintenance of our Services. You also acknowledge that the arrangement between one or more Payment Service Providers and us may terminate at any time and services by such Payment Service Providers may be withdrawn; and
While we want you to enjoy the Services, you may not, permit any third party to do any of the following: (i) access or monitor any material or information on any SparkIT Pay system using any manual process or robot, spider, scraper, or other automated means unless you have separately executed a written agreement with us referencing this Clause that expressly grants you an exception to this prohibition; (ii) copy, reproduce, alter, modify, dismantle, create derivative works, publicly display, republish, upload, post, transmit, resell or distribute in any way material or information from SparkIT Pay; (iii) permit any third party to use and benefit from the Service via a rental, lease, timesharing, service bureau or other arrangement; (iv) transfer any rights granted to you under this Agreement; (v) violate the restrictions in any robot exclusion headers on the Services, work around, bypass, or circumvent any of the technical limitations of the Services, use any tool to enable features or functionalities that are otherwise disabled in the Services, or decompile, disassemble, decode or attempt to decode or reverse engineer the Services or to in any way override or break down any protection system integrated into the Services; (vi) perform or attempt to perform any actions that would interfere with the proper working of the Services, prevent access to or use of the Services by our other users, or impose an unreasonable or disproportionately large load on our infrastructure; (vii) create a derivative software program; or (viii) otherwise use the Services except as expressly allowed under this Agreement.
INTELLECTUAL PROPERTY RIGHTS
The Service is licensed and not sold. We reserve all rights not expressly granted to you in this Agreement. The Service is protected by copyright, trademarks, patents, trade secret and other intellectual property laws. We own the title, copyright and other worldwide intellectual property rights in the Services and all copies of the Services. This Agreement does not grant you any rights to the IPR. All intellectual property rights and other proprietary rights whatsoever (including but not limited to, for the avoidance of doubt, all patent rights, copyright rights, mask work rights, moral rights, rights of publicity, trademark, trade dress and service mark rights, goodwill, trade secret rights and other intellectual property rights as may now exist or hereafter come into existence, and all applications therefore and registrations, renewals and extensions thereof, under the laws of any central, state, territory or other jurisdiction and database rights, the Buyer data, SparkIT Pay systems, including the Software Application, and all information contained therein ("SparkIT Pay IPR"), whether existing at or created following the commencement date, will be owned by and vest wholly in us or its licensors. Nothing in this Agreement will have the effect of (a) transferring or attributing to the Seller any ownership rights whatsoever in or to the SparkIT Pay IPR, or (b) restricting our use of the Buyer data or SparkIT Pay Systems including software applications. To the extent that any SparkIT Pay IPR vests, by operation of law, in the Seller, the Seller hereby assigns to SparkIT Pay, with full title guarantee and immediately upon creation, all such SparkIT Pay IPR. Nothing contained herein will authorize the Seller to use or in any manner exploit the SparkIT Pay IPR or the intellectual property rights of the Payment System Providers without our or the Payment System Providers prior written consent and the usage will be in compliance with such approval and policies as may be notified from time to time. The Seller undertakes not to infringe the SparkIT Pay IPR in the software application, whether directly or indirectly through any third party. You may choose to, or we may invite you to, submit comments or ideas about the Services, including without limitation about how to improve the Service or our products. By submitting any idea, you agree that your disclosure is gratuitous, unsolicited and without restriction and will not place us under any fiduciary or other obligation, and that we are free to use the idea without any additional compensation to you, and/or to disclose the idea on a non-confidential basis or otherwise to anyone. You further acknowledge that, by acceptance of your submission, We do not waive any rights to use similar or related ideas previously known to us, or developed by its employees, or obtained from sources other than you;
The Seller hereby grants us and the Payment System Providers a non-exclusive, royalty-free, limited license to use, display and reproduce the trademarks, service marks and logos of the Seller solely in connection with the marketing of their facilities and services to the public. The Seller hereby confirms that the Seller has the requisite right to use the said marks and logos and to grant permission to use as stated herein. The Seller will retain all intellectual property rights in such marks;
The Seller will prominently display, on its Web-store and in other online marketing materials if so requested, a statement/logo/image provided and approved by us relating to the Services offered by SparkIT Pay; and
The Users fully understand that due to visit of the Buyers to the SparkIT Pay website and the Seller's Web-store, we may create or generate database in respect of such Buyers. All intellectual property rights including User right in respect of such database will fully vest with SparkIT Pay.
INDEMNITY
The Seller will indemnify, defend and hold us and the Payment System Providers harmless (and their respective employees, officers, directors, agents, affiliates and representatives) from and against any and all claims, costs, losses, liabilities (including statutory liabilities), damages, judgments, awards, tax assessments, penalties, interest, and expenses (including without limitation reasonable attorneys' fees) however arising directly or indirectly, including but not limited to, as a result of:
• any claim, action, audit, investigation, inquiry, or other proceeding instituted by a Buyer, third party person or entity;
• any actual or alleged breach of your representations, warranties, covenants, declarations or obligations set forth in this Agreement, including without limitation any violation of our policies or the Card Association Rules;
• your wrongful or improper use of the Service;
• any Transaction submitted by your Buyers through the Services (including without limitation the accuracy of any information that you provide;
• any claim or dispute arising out of Products or services offered or sold by you;
• your violation of SparkIT Pay IPR or the Payment System Providers or any third-party intellectual property rights;
• breach of our, the Payment System Providers, Buyers and/or third party rights including without limitation any right of privacy, confidentiality and publicity rights;
• your violation of any law, rule or regulation in force in India or any other country;
• any other party's access and/or use of the Service with your unique username, password or other appropriate security code.
• any negligent act or omission or default or misconduct or fraud of your part or your agents; or
• any hacking or lapse in security of your SparkIT Pay Account or the Buyer data; or
• any act, deed, omission or non-performance on your part.
The Seller will indemnify us and the Payment System Providers will against all claims by the Sellers, Buyers, regulators and/or the Payment System Provider. The indemnities provided herein will survive the termination of this Agreement.
REPRESENTATIONS AND WARRANTIES OF USERS
You represent and warrant to us that: (a) you are at least 18 (eighteen) years of age; (b) you are eligible to register and use the Service and have the right, power, and ability to enter into and perform under this Agreement; (c) the name identified by you when you registered is your name or business name under which you sell the Products or offer your services (d) you are duly organized and validly existing under the laws of the jurisdiction in which you are established; (e) your obligations hereunder constitute legal, valid, binding and enforceable obligations; (f) the execution and delivery of this Agreement and the consummation of the Transactions contemplated herein do not breach its organisational documents or any law, provisions of any contract or order of court applicable to it and do not require any applicable governmental approval; (g) any sales Transaction submitted by you will represent a bona fide sale by you; (h) any sales Transactions submitted by you will accurately describe the services availed by the Buyers; (i) you will fulfil all of your obligations to each Buyer for which you submit a Transaction and will resolve any consumer dispute or complaint directly with the Buyers; (j) except in the ordinary course of business, no sales Transaction submitted by you through the Services will represent a sale to any principal, partner, proprietor, or owner of your entity; (m) you will not use the Services, directly or indirectly, for any fraudulent undertaking or in any manner so as to interfere with the use of the Services; (n) your use of the Service will be in compliance with this Agreement.
DISCLAIMER RELATED THIRD PARTIES
We make no representations or guarantees regarding Sellers utilizing our Services. Use of our Services in no way represents any endorsement by us of a Seller's existence, legitimacy/legality, ability, policies, practices, beliefs as well as the Sellers Products and reliability.
The Seller alone will be responsible to its Buyers and neither us nor the Payment System Providers or anybody connected to us or the Payment System Providers will have any responsibility or liability towards the Buyers of the Seller and the Seller will keep us, entities related to us and the Payment System Providers fully indemnified for all times to come.
The relationship between us and the Seller is on principal-to-principal basis. We have no connection or interest of whatsoever nature in the business of the Seller or the Products offered / marketed by the Seller. We do not in any manner take part in the business of the Seller, directly or indirectly. We will only provide specific Services to the Seller in relation to the Sellers, its Buyers and the Payment System Providers, as an Independent Contractor and under the terms and conditions of this Agreement.
For the use of our Services, the Seller pays Fees to us as posted on our website and we nowhere connected or concerned about the revenues of the Seller or the Payment System Providers.
It will be the sole and exclusive responsibility and obligation of the Seller to ensure that the business of the Seller is conducted and Products are offered by it in compliance of all applicable laws, rules and regulations of all jurisdictions from where the said Products are offered by the Seller and also from where the said Products can be procured / availed by its Buyers. The Seller will keep us fully indemnified for all times to come in this regard also.
We are neither concerned nor required to monitor in any manner the use of the payment modes by the Buyers for procuring / availing the services of the Seller. Buyers should be required to use the payment modes at their sole option and risks. The Seller will be required to notify this responsibility to all its Buyers.
The Seller will have the marketable and legal ownership and title in respect of all services availed or products offered and the Seller will pass on marketable and legal ownership and title to its Buyers in respect of the Products or services once a Buyer validly purchases Products or makes payment for a specified services.
DISCLAIMER
The Services are provided on an "as is" and "as available" basis. Use of the service is at your own risk. To the maximum extent permitted by applicable law, the Services is provided without warranties of any kind, whether express or implied, including, but not limited to, implied warranties of merchantability, fitness for a particular purpose, or non-infringement. No advice or information, whether oral or written, obtained by you from us or through the Services will create any warranty not expressly stated herein. Without limiting the foregoing, we, the System Providers, its processors, its providers, its licensors (and their respective subsidiaries, affiliates, agents, directors, and employees) do not warrant that the content is accurate, reliable or correct; that the Services will meet your requirements; that the Services and the Payment System Providers' payment mechanism will be available at any particular time or location, uninterrupted or secure; that any defects or errors will be corrected; or that the Services is free of viruses or other harmful components. We will not be liable to the User for any loss or damage whatsoever or howsoever caused or arising, directly or indirectly, including without limitation, as a result of loss of data; interruption or stoppage of access to and/or use of the Web-store and Services and the Internet Payment Gateway; interruption or stoppage SparkIT Pay website; non-availability of connectivity links/hyperlinks.
Any content downloaded or otherwise obtained through the use of the Services is downloaded at your own risk, and you will be solely responsible for any damage to your property or loss of data that results from such download.
The Users acknowledges that the arrangement between one or more Acquiring Banks and SparkIT Pay may terminate at any time and services by such Payment System Provider may be withdrawn.
We do not warrant, endorse, guarantee, or assume responsibility for Products advertised or offered by a third party through the Services or any hyperlinked website or Service, or featured in any banner or other advertising, and we will not be a party to or in any way monitor any transaction between you and third-party providers of goods and/ or services.
The Services are controlled and operated from and in India. We make no representations that the Services are appropriate or available for use in other locations. Those who access or use the Services from other jurisdictions do so at their own volition and are entirely responsible for compliance with all applicable Indian laws, rules, regulations, guidelines including but not limited to export and import regulations and RBI regulations. You may not use the Service if you are a resident of a country embargoed by the India, or are a foreign person or entity blocked or denied by the Indian government. Unless otherwise explicitly stated, all materials found on the Services are solely directed to individuals, companies, or other entities located in India.
Our sole obligation and the Users sole and exclusive remedy in the event of interruption in Services or loss of use and/or access to Services, Internet Payment Gateway and the payment mechanism will be to use all reasonable endeavours to restore the Services and/or access as soon as reasonably possible.
LIMITATION OF LIABILITY
To the maximum extent permitted by applicable law, in no event will we, and our processor (i.e. the Payment System Providers and nodal bank), or our licensors (or their respective affiliates, agents, directors and employees) be liable for any direct, indirect, punitive, incidental, special, consequential or exemplary damages, including without limitation damages for loss of profits, goodwill, use, data or other intangible losses, that result from the use of, inability to use, or unavailability of the Service. Under no circumstances will we be responsible for any damage, loss or injury resulting from hacking, tampering or other unauthorized access or use of the Services or your SparkIT Pay Account or the information contained therein.
To the maximum extent permitted by applicable law, we and our processors (and their respective affiliates, agents, directors, officer and employees) assume no liability or responsibility for any (i) errors, mistakes, or inaccuracies of content; (ii) personal injury or property damage, of any nature whatsoever, resulting from your access to or use of the service; (iii) any unauthorized access to or use of our secure servers and/or any and all personal information stored therein; (iv) any interruption or cessation of transmission to or from the service; (v) any bugs, viruses, trojan horses, or the like that may be transmitted to or through the service by any third party; (vi) any errors or omissions in any content or for any loss or damage incurred as a result of the use of any content posted, emailed, transmitted, or otherwise made available through the Service; and/or (vii) User content or the defamatory, offensive, or illegal conduct of any third party.
In no event will we, (or our respective affiliates, agents, directors, and employees) aggregate liability from any cause whatsoever exceed the sum equivalent to 1 (one) month's aggregate preceding Fee earned by us under this Agreement from the date of occurrence of such liability. In no event will the nodal bank or the Payment System Providers be liable to the User in any way under this Agreement.
This limitation of liability section applies whether the alleged liability is based on contract, tort, negligence, strict liability, or any other basis, even if we have been advised of the possibility of such damage. The foregoing limitation of liability will apply to the fullest extent permitted by law in the applicable jurisdiction.
GOVERNING LAW AND JURISDICTION
This Agreement will be governed by and construed in accordance with the laws of India. The Users agree that any legal action or proceedings arising out of this Agreement may be brought exclusively in the competent courts/tribunals having jurisdiction in India in Bangalore and irrevocably submit themselves to the jurisdiction of such courts / tribunals.
ARBITRATION
The parties to this Agreement hereby agree that they will work together to resolve any disputes that may arise under this Agreement;
In the event that disputes do arise under this Agreement, which the parties to this Agreement are unable to settle amicably, the dispute will be settled in accordance with the Arbitration and Conciliation Act, 1996 as modified from time to time deemed to be incorporated by reference under this Clause;
The place of arbitration will be Bangalore and the language of the arbitration will be English;
The parties will jointly appoint a sole arbitrator. If the parties to this Agreement do not agree on a sole arbitrator within thirty (30) days of the date of service of notice of arbitration by the party initiating arbitration, the parties will each appoint one arbitrator and the two arbitrators appointed by the parties will appoint the third arbitrator, who will be the chairman of the arbitral tribunal. If both arbitrators are unable to agree on the appointment of the third arbitrator then the appointment of the third arbitrator should be done in accordance with the Rules; and
The award of the arbitrator will be final conclusive and binding upon the parties to the dispute.
LIMITATION ON TIME TO INITIATE A DISPUTE
Unless otherwise required by law, an action or proceeding by you relating to any Dispute must commence within one (1) year after the cause of action accrues.
RIGHT TO AMEND
We have the right to change or add to the terms of this Agreement at any time, and to change, delete, discontinue, or impose conditions on any feature or aspect of the Service with notice that we in our sole discretion deem to be reasonable in the circumstances, including such notice on our website at www.SparkIT Pay.com or any other website maintained or owned by us for the purposes of providing Services in terms of this Agreement. Any use of the Services after our publication of any such changes will constitute your acceptance of this Agreement as modified. However, any Dispute that arose before the modification will be governed by the Agreement that was in place when the Dispute arose.
ASSIGNMENT
This Agreement, and any rights and licenses granted hereunder, may not be transferred or assigned by you. We may assign, in whole or in part, the benefits or obligations of this Agreement to its associate's of affiliates of other group company, pursuant to a restructuring or re-organization or demerger of its organization or operations. We will provide an intimation of such assignment to you, which will be binding on the parties to this Agreement.
THIRD PARTY SERVICES AND LINKS TO OTHER WEB SITES
You may be offered services, products and promotions provided by third parties and not by SparkIT Pay. If you decide to use these third party services you will be responsible for reviewing and understanding the terms and conditions associated with these services. You agree that we are not responsible for the performance of these services. The SparkIT Pay website may contain links to third party websites as a convenience to you. The inclusion of any website link does not imply an approval, endorsement, or recommendation by SparkIT Pay. You agree that you access any such website at your own risk, and that the site is not governed by the terms and conditions contained in this Agreement. We expressly disclaim any liability for these websites. Please remember that when you use a link to go from our website to another website, our Privacy Policy is no longer in effect. Your browsing and interaction on any other website, including those that have a link on our website, is subject to that website's own rules and policies.
MODIFICATION OF TERMS OF SERVICE
We have the right to change or add to the terms of this Agreement at any time, and to change, delete, discontinue, or impose conditions on any feature or aspect of the software or Services with notice that we in our sole discretion deem to be reasonable in the circumstances, including notice on our website at www.SparkIT Pay.com or any other website maintained or owned by us for the purposes of providing services in terms of this Agreement, and communicate to you. Any use of our software or Services after our publication of any such changes will constitute your acceptance of this Agreement as modified.
PUBLICITY AND ADVERTISEMENT
We will have the right to use the name and/or trademark/logo of the Seller in any sales or marketing publication or advertisement.
FORCE MAJEURE
We will not be liable for its failure to perform under this Agreement as a result of any event of force majeure events like acts of god, fire, wars, sabotage, civil unrest, labour unrest, action of statutory authorities or local or state, central governments, change in laws, rules and regulations, affecting our and/or the Payment System Providers performance.
WAIVER
Unless otherwise expressly stated in this Agreement, the failure to exercise or delay in exercising a right or remedy under this Agreement will not constitute a waiver of the right or remedy or a waiver of any other rights or remedies, and no single or partial exercise of any right or remedy under this Agreement will prevent any further exercise of the right or remedy or the exercise of any other right or remedy.
SURVIVAL OF PROVISIONS
The terms and provisions of this Agreement that by their nature and content are intended to survive the performance hereof by any or all parties hereto will so survive the completion and termination of this Agreement.
SEVERABILITY
If any provision of this Agreement is or becomes, in whole or in part, invalid or unenforceable but would be valid or enforceable if some part of that provision was deleted, that provision will apply with such deletions as may be necessary to make it valid. If any court/tribunal of competent jurisdiction holds any of the provisions of this Agreement unlawful or otherwise ineffective, the remainder of this Agreement will remain in full force and the unlawful or otherwise ineffective provision will be substituted by a new provision reflecting the intent of the provision so substituted.
NON-EXCLUSIVITY
It is agreed and clarified that this Agreement is on a non-exclusive basis and the Parties are at liberty to enter into similar Agreements with others.
NOTICES
All notices, requests, demands, waivers and other communications required or permitted to be given under the Agreement will be in writing to be sent to the following addresses:
The Director, SparkIT Techno Solutions Pvt. Ltd
To the name and address provider for at the time of registration.
Or, in each case, at such other address as may be specified in writing to the other parties in accordance with the requirements of this Clause. All such notices, requests, demands, waivers and other communications will be deemed duly given (i) if by personal delivery, on the day after such delivery, (ii) if by certified or registered mail, on the tenth day after the mailing thereof, (iii) if by courier service or similar service, on the day delivered, or (iv) if by facsimile or telegram, on the day following the day on which such facsimile or telegram was sent, provided that a copy is also sent by registered mail and, in the case of a facsimile, electronic confirmation of receipt is received.